How do you like your fish? Baked, roasted, grilled, crumbed, steamed, sautéed, panfried or souped up?
Here's one of our favourite fresh, seasonal recipes to try at home.
Fresh Crispy Salmon Burrito Bowls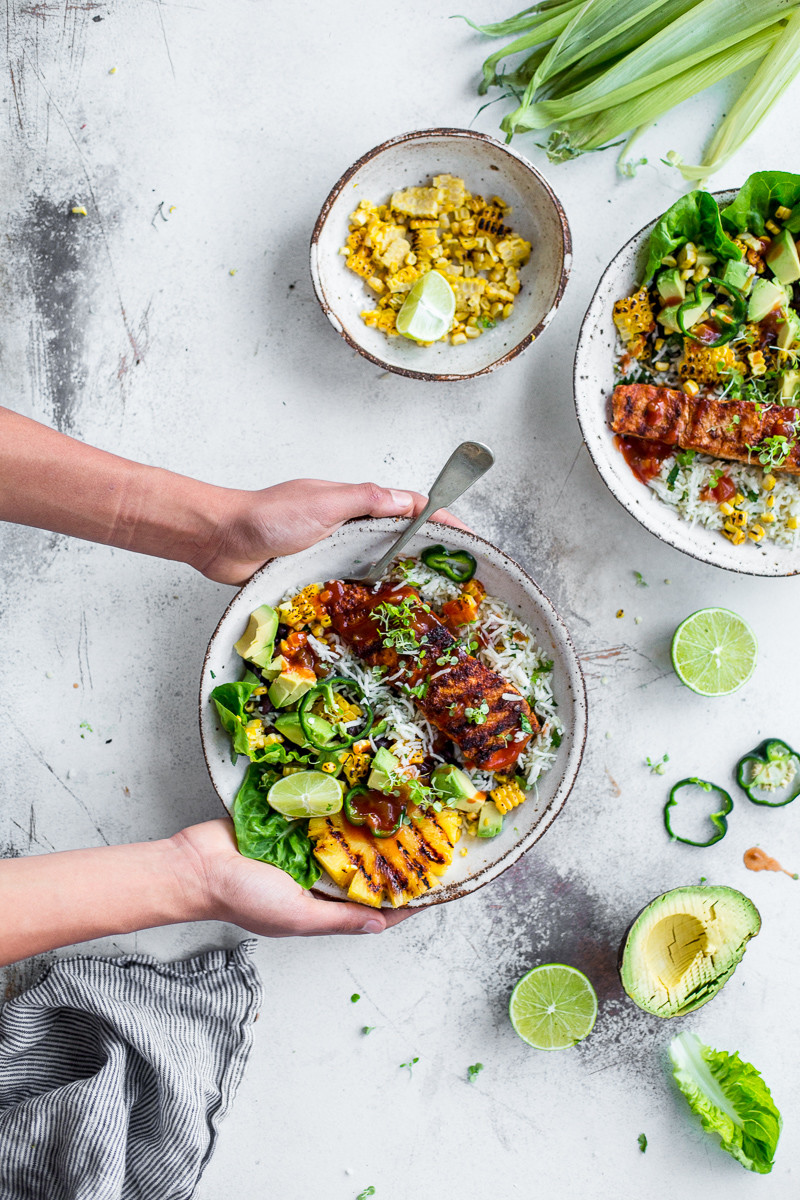 Ingredients
For the salmon:
2 fresh salmon portions skin-off
1 1/2 tsp sea salt flakes
6 garlic cloves
1 Tbsp ground cumin
1 tsp smoked paprika
2 Tbsp olive oil, plus extra for greasing pan
For the lime & coriander rice:
4 cups cooked basmati rice (approx. 2 cups uncooked rice)
3 Tbsp extra virgin olive oil
3 garlic cloves
1 small brown onion, thinly sliced
1 long green chilli
1/2 tsp dried oregano
zest and juice of 1 lime
salt to taste
1/4 cup packed fresh coriander leaves, chopped
For the caramelised pineapple:
4 thick slices fresh pineapple
1 Tbsp melted butter
For the bowls:
400g can cooked black beans, rinsed and drained
1 tsp smoked paprika
juice of half a lime
salt and pepper to taste
2 fresh corn cobs
8 gem lettuce leaves, to serve
1 thinly sliced green pepper, to serve
2 diced avocados, to serve
4 Tbsp salsa or taco sauce, to serve
2 Tbsp hot chilli sauce, to serve
4 lime wedges, to serve
micro herbs, to serve
Method
To Prepare the Salmon:
Place all ingredients for the salmon in a large shallow bowl and mix gently to evenly coat the salmon with the spices. Marinate in the fridge for 15 minutes.
Heat a grill pan on medium-high. Brush with some olive oil. Place the salmon fillets on the hot grill pan and cook for approximately 4-5 minutes. Using tongs, carefully turn over the fillets and cook the other side for 4-5 minutes until browned and just cooked down the middle. Remove from heat and set aside.
To Prepare the Rice:
Heat oil in a large frying pan or wok on medium. Add garlic, onion and chilli. Sauté for a few minutes until the onion starts to caramelise.
Add the cooked rice, oregano, lime zest, lime juice and salt. Mix well and cook for a few minutes until heated through. Remove from heat and stir in coriander.
To Prepare the Caramelised Pineapple:
Heat a grill pan on high. Place pineapple slices on the hot pan and brush with melted butter. Cook each side for 3-4 minutes, basting with melted butter until starting to char and turn golden. Remove from heat and set aside.
To Assemble the Burrito Bowls:
Place cooked black beans, paprika, lime juice, salt and pepper in a small bowl. Mix well. Shuck the corn cobs.
Grill the corn on an open fire for a couple of minutes until it starts charring. Alternatively, place on a barbecue or oven grill and cook until starting to brown. Remove from heat and cool slightly. Using a sharp knife or corn stripper, remove the kernels into a bowl and set aside.
Take 4 shallow rimmed bowls (approximately 20cm). Place 2 lettuce leaves in each bowl. Place a pineapple slice over the lettuce in each bowl. Divide the rice equally between the bowls. Add black beans and charred corn. Place a salmon fillet over the bed of rice, corn and beans. Top with green pepper, avocado, salsa and hot chilli sauce. Garnish with lime wedges and micro herbs.
Original recipe: https://www.cookrepublic.com/fresh-crispy-salmon-burrito-bowls/